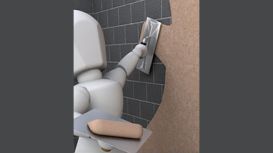 Tony Fowler Plastering is a well established Plasterer In Camden, North London specialising in all type plastering work especially Venetian plastering. This website has been created to give you an idea of the plastering work that we undertake and the feedback that we get from our satisfied customers. Please contact us if you would like more information or perhaps a quote for any plastering work in St John's Wood, Hampstead, Swiss Cottage and NW poscodes. Tony Fowler can provide advice and guidance, whether you are considering a small plastering job or perhaps need a plasterer to work alongside other building tradesmen.
We provide a friendly, clean, professional plastering service; from small plaster repairs to significant re-plastering jobs covering multiple rooms. We provide a flexible, cost effective approach that fits around your business needs. We are willing to work directly for the client or subcontracted to a lead contractor.
---
Reviews and Ratings
We do not have any reviews about Tony Fowler Plastering available right now.